Sajam automobila u Briselu.
Najgore je svađati se sa budalom. Prvo te spusti na svoj nivo, a onda te dotuče iskustvom...


---
EU finds Jeep Grand Cherokee and Suzuki Vitara break emissions rules
https://www.autoblog.com/2020/01/23/jee ... ns-europe/
Jeep already has a fix, but Suzuki doesn't yet have a solution
AMSTERDAM — Fiat Chrysler's Jeep Grand Cherokee and Suzuki's Vitara diesel models both break emissions rules and must be fixed or face a ban on sales across Europe, the Dutch road authority ruled on Thursday.
The RDW authority, acting as the reference regulator for across the European Union, said Jeep had developed a software fix and that the authority had ordered the company to recall the model across Europe to roll it out.
It added Suzuki had yet to find a credible solution for the Vitara.
"Suzuki must come with adequate improvement measures or the RDW will begin the process of revoking its European type approval," the RDW said in a statement, adding it had also started the process of revoking approval for the Jeep Grand Cherokee as a "precautionary measure."
Regulators across the world have been testing diesel models since Volkswagen admitted in 2015 that it used illegal software to cheat U.S. emissions tests.
The RDW said it had found both the Jeep Grand Cherokee and Vitara had used "prohibited emissions strategies" that led them to emit higher levels of harmful nitrogen oxide (NOx) on the road than under testing conditions.
Dutch State Secretary for Infrastructure, Stientje van Veldhoven, said in a letter to parliament she would inform prosecutors of the RDW's findings.
Fiat Chrysler and Suzuki could not immediately be reached for comment.
Najgore je svađati se sa budalom. Prvo te spusti na svoj nivo, a onda te dotuče iskustvom...


---
Postovi: 4989
Pridružio se: 08 Jul 2012, 22:50
Garaža: C-Max 2018 1.0 125
Lokacija: Van Srbije
---
Najgore je svađati se sa budalom. Prvo te spusti na svoj nivo, a onda te dotuče iskustvom...


---
JATO Dynamic's analysis of EU CO2 emissions in 2020
https://www.jato.com/jato-dynamics-anal ... s-in-2020/
European OEMs have experienced several challenges this year. Alongside the hugely disruptive effects of Covid-19, manufacturers are now facing the impending CO2 target deadline presented by the European Commission.
According to our data*, the results for January-October 2020 revealed that PSA recorded the lowest sales weighted CO2 emissions across all benchmarks.
The European Commission's legislation states that for each gram that's over the CO2 target, manufacturers will face a fine of €95 per car registered. As a result of this policy, many brands have taken to discontinuing some of their slow-selling models that also heavily contribute to their CO2 averages.
The CO2 target deadline has also led to the acceleration of OEMs' electrification plans. The "super-credit" system presents manufacturers with additional incentives for marketing zero and low-emission vehicles – specifically those that emit less than 50 g/km. And, through the "super credit system" when calculating a manufacturer's average emissions levels, these cars also count as two vehicles.
According to our data, the super-credit policy has been a driver behind the outstanding growth seen in EV registrations this year. Registrations of low-emissions cars** increased by 113% through October to 875,000 units from 411,700 units in 2019, for 22 markets across Europe. The market share of low emissions cars jumped from 3.2% (January – October 2019), to 9.3% year-on-year. This increase coincides with the double-digit decline in demand seen for gasoline and diesel cars.
Low-emissions vehicles market surge continues
As the low carbon agenda is driven forward by European legislation, low emissions vehicles registrations continue to soar. In fact, when measured against the current super-credits legislation, pure electric cars, fuel-cells powered cars, and plug-in hybrid electric cars were the only vehicles to post averages that sit within the 50 g/km limit.
The same cannot be said for pure ICE (diesel and petrol) and hybrid vehicles. In January-October 2020, these cars posted averages above 100 g/km.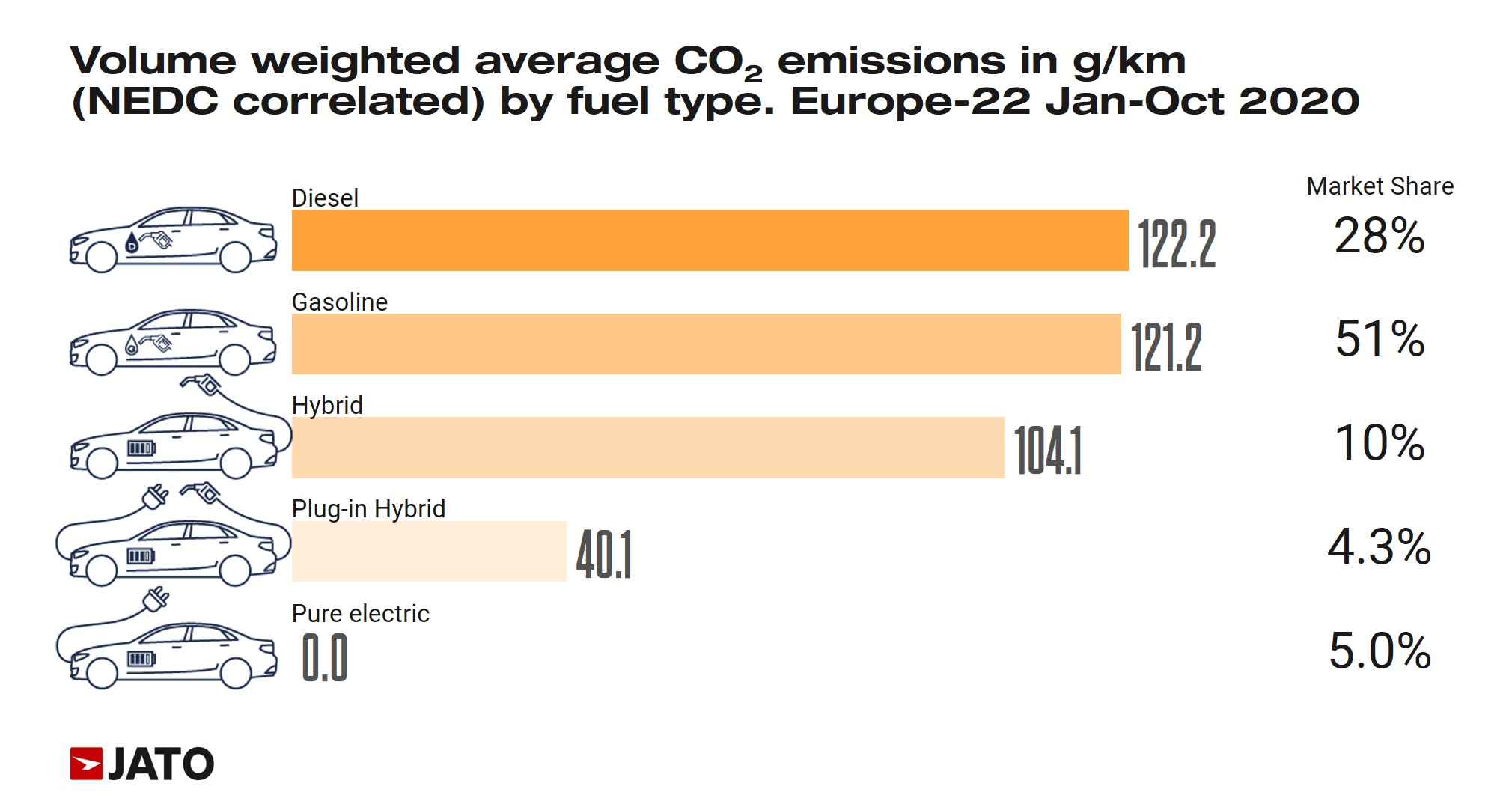 PSA achieved lowest emissions
Between January and October 2020, PSA registered sales-weighted emissions of 97.9 g/km. This was the best result among 11 different pools** – achieved without supercredits or phase-in benefits.
In January-October, the use of supercredits and phase-in benefits reduced PSA's average CO2 emissions levels to 91.9 g/km. This reduction of 6 grams comes as a result of the increased demand seen for small cars, and their recent focus on low emissions vehicles. The city-cars, subcompacts and small SUVs accounted for 57% of PSA's volume through October, while registrations of its plug-in hybrid and pure electric cars totalled 88,800 in the first ten months of this year.
DS was the second brand with the lowest average CO2 emissions in Jan-Oct 2020, only behind MG and the four zero-emissions brands, Tesla, Maxus, Polestar and Smart.
Najgore je svađati se sa budalom. Prvo te spusti na svoj nivo, a onda te dotuče iskustvom...


---